Nordisk Netværk For Tidlig Musikdramatik
Nordic Network For Early Opera

invites to international CONFERENCE:

CACCINI'S EURIDICE & THE BIRTH OF OPERA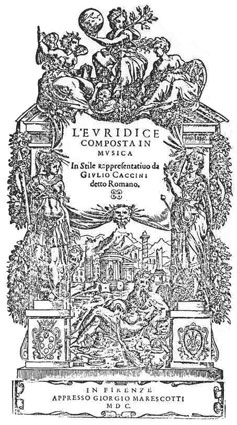 with

Marco Horvat - singer, lutenist, director, Paris/Rome
Deda Cristina Colonna - director, choreographer, Novara
Barbara Hanning - professor, The City College, New York
Per-Erik Öhrn - director, writer, prev. leader of Drottningholms Slottsteater, Stockholm
John La Bouchardière - opera director, London
Christopher Cowell - opera director, translator, London
Jette Barnholdt Hansen - cand.mag, ass. prof. dep. for rhetoric, Copenhagen University
Magnus Tessing Schneider - ph.d., Aarhus University


The Royal Danish Academy of Music
Rosenørns Allé 22, Frederiksberg


COPENHAGEN
| | | | | | | | | | | |
| --- | --- | --- | --- | --- | --- | --- | --- | --- | --- | --- |
| | | | | | | | | | | |
| | | | | | | | | | | |
| Marco Horvat | | Deda Cristina Colonna | | Barbara Hanning | | Jette Barnholdt Hansen | | Per-Erik Öhrn | | Magnus Tessing Schneider |


* * *
Caccini's Euridice - A theatrical and rhetorical investigation of the birth of opera
The years around 1600 were characterized by an aesthetic eclecticism embracing many different, or even conflicting, philosophical and literary currents. Two phenomena, however, exerted particularly strong influence, theoretically as well as practically, on much early baroque art: theatre and rhetoric. Theatre was the art form par excellence of the Baroque, and music, architecture, literature, etc. were all inspired by different aspects of theatre. Rhetoric was used in many ways as a communicative art theory that granted authority to a performative aesthetic focusing on the experience of the audience. Art aimed at creating strong effects in its receivers, and artists took either the stage magician or the persuasive rhetor as their model. Opera, the new genre of the period, can be seen as a synthesis of theatre, music and rhetoric whose raison d'être was a new type of song that replaced spoken dialogue: the stile recitativo. The recitative style should be perceived as 'sung speech' and was meant to reinforce affective declamation, striving towards an ideal theatrical communication!
The blending of theatre, rhetoric and music has wide-ranging consequences for the field of performance practice, which have yet to be fully investigated. Even though both practitioners and scholars agree that theatre is an important aspect of baroque opera, the 20th-century revival of the art form has focused primarily on text and music at the expense of the rhetorical and theatrical aspects. It is one of the purposes of this conference to investigate one of the earliest operas, Giulio Caccini's L'Euridice from 1600, as well as the birth of opera in general, in the light of theatre and rhetoric, drawing on both practical and theoretical perspectives.


CONFERENCE PROGRAM - October 17 - 19, 2008
@ The Royal Danish Academy of Music, Rosenørns Allé 22, Frederiksberg, Copenhagen
FRIDAY Oct. 17
10.00-13.00 Masterclass: Euridice
13.00-14.00 Lunch
14.00-15.00 Marco Horvat & Deda Cristina Colonna: Introduction to Caccini's Euridice
15.00-16.00 Masterclass concert: Caccini's Euridice (excerpts)
17.30 Dinner
19.00 Opera - Händels Partenope at The Royal Danish Opera House (public event - sold out)
SATURDAY Oct. 18
12.00-13.00 Barbara Hanning (us) - "How opera began"
13.15-14.15 Jette Barnholdt Hansen (dk) - "Recitative style as a metaphor of intentional speech - a rhetorical approach to a musical style"
14.15-15.00 Lunch
15.00-16.00 Magnus Tessing Schneider (dk) - "The charmer's song: Orpheus and the Italian operatic tradition"
16.00-17.00 Conclusion / discussion
18.00 Dinner
20.00 Opera - Offenbach with Den Rullende Opera at "Operaen", Christiania (public event - sold out)
SUNDAY Oct. 19
11.00-12.00 Per-Erik Öhrn (se) - "Staging early opera - some observations from a director´s point of view made at the Drottningholm Court Theatre"
12.15-13.15 John La Bouchardière (uk) - "From early opera on stage to music drama on screen"
13.15-14.00 Lunch
14.00-15.00 Deda Cristina Colonna (it) – "Talking 'baroque' to contemporary dancers and singers: an overview of my experience as a reconstructor-choreographer-director"
15.15-16.00 Christopher Cowell (uk) - "On personal experiences" - a dialogue on with Magnus Tessing Schneider
16.00-17.00 Conclusion / discussion
18.00 Dinner
20.00 Concert - Elisabeth Holmertz, soprano & Fredrik Bock, theorbe (public concert - tickets at the door)