Nordisk Netværk For Tidlig Musikdramatik
Nordic Network For Early Opera

invites to international conference on Monteverdi's last opera:


NEW PERSPECTIVES ON
POPPEA

with

Ellen Rosand - Professor of Music History, Yale University
Wendy Heller - Professor of Music, Princeton University
Mark Tatlow - Professor, Artistic Director, Drottningholms Slottsteater, Stockholm
Magnus Tessing Schneider - MA, PhD, Theatre History, Copenhagen University



KUNGL. MYNTKABINETTET
Slottsbacken 6, Gamla Stan, Stockholm
AUGUST 1, 2009

| | | | | | | |
| --- | --- | --- | --- | --- | --- | --- |
| | | | | | | |
| | | | | | | |
| | | | | Mark Tatlow | | |

New Perspectives on Poppea
After almost four centuries, Claudio Monteverdi's and Gian Francesco Busenello's grotesque operatic tribute to lust and ambition, L'incoronazione di Poppea (Venice, 1642-3), has lost none of its ability to fascinate and provoke. It also remains a highly enigmatic work, since so little is known about the intentions of the authors, or about the opera's original production and reception: that Monteverdi chose to end his career with a glorification of one of the most wicked amorous couples in history, Nero and Poppea, has baffled generations. Our insights seem to have increased, however, together with our knowledge of the intellectual currents of 17th-century Venice, and of the literary, theatrical and musical practices of the age. In the context of the new production of Poppea at Drottningholms Slottsteater, a number of opera practitioners and opera scholars who have approached the work from different interdisciplinary angles will meet and offer their opinions on the mysteries of the piece.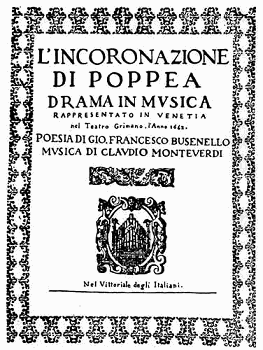 PREL. CONFERENCE PROGRAM - July 31 - August 2, 2009

FRIDAY July 31 @ Drottningholm
16.00-16.15: Reception at Drottningholm (limited participation)
16.15-17.15: Guided visit to Drottningholms Slottsteater (limited participation)
17.30-19.00: Dinner (limited participation)
19.30-22.30: Opera - Monteverdi: L'incoronazione di Poppea
SATURDAY August 1 @ Kungl. Myntkabinettet
10.00-11.00: Ellen Rosand (us): "Defending Seneca from his Detractors (ancient and modern)"
11.00-12.00: Magnus Tessing Schneider (dk): "Seeing the Empress again: On Senecan parody and Anna Renzi's mad transformations"
12.00-13.00: Lunch
13.00-13.30: Concert with Susanne Rydén and Mark Tatlow @ Riddarholmskyrkan
14.00-15.00: Wendy Heller (us): "Behind Poppea's Veil: Sight, Sound, and Imperial Erotics in L'incoronazione di Poppea"
15.00-15.30: Coffee
15.30-16.30: Mark Tatlow (se): "Performing Poppea: Problems and Possibilities"
17.00-18.00: Conclusion / discussion

SUNDAY August 2 @ Drottningholm (optional)
16.00-19.00: Opera - Monteverdi: L'incoronazione di Poppea
NB: Lars Berglund has been forced to withdraw from the speakers list due to personal circumstances!

* * *
Registration fee: 200 SEK - Students: 100 SEK (excl. meals and tickets)

For more info and registration write to: Björn Ross - info@earlyopera.org

* * *

Arranged in collaboration with

Drottningholms Slottsteater